Welcome to J.S. Technology.
New from J.S. Technology is TestCard ProHD, the tool for setting up and calibrating your TV and monitor.   TestCard ProHD works with Apple TV V2 & V3 using AirPlay Mirroring (instruction on AirPlay Mirroring from Apple: http://support.apple.com/kb/ht5209) and with Apple's Digital Media Interface for HDMI or VGA.
TestCard ProHD provides a variety of test cards all designed specifically to optimise your viewing experience.   Each card is generated programmatically rather than stored as images (except when it is a picture!).
But because it's an app rather than a disc such as a Blu Ray or DVD, you get any updates to the bundle of test cards automatically!   And you can even request that we add specific tests and we'll consider putting them in.   It's a much more adaptable and flexible means to test.
Blu-Ray and DVD video test discs can now be replaced by TestCard ProHD.   It's the future.
Availble exclusively on iPhone and iPad:

---
Also on iOS is MetroBaby™, the game for entertaining and distracting babies and toddlers:
It gives a variety of games (after in-app purchase) to help entertain when you're on the move.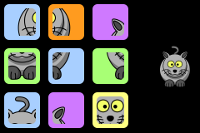 See the demo on YouTube:
Available from the App Store™:

---
As well as MetroBaby you'll still find find a selection of video converters for analogue and digital systems, as well as lip-sync correction from us.   We are regarded as having some of the highest quality converters on the market today.
The HDMI products we stock are carefully selected for their performance, and more importantly for HDMI, their compatibility.
Thank you for visiting.
Dr John Sim.